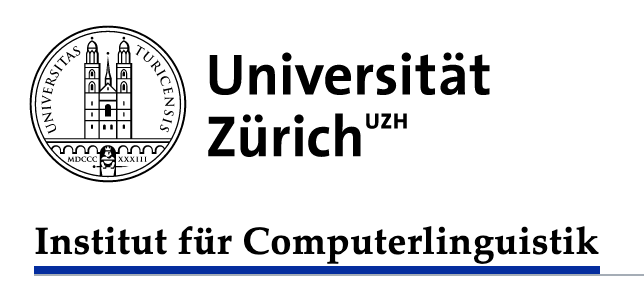 Lecture Series on Speech and Text Technologies - HS 2021
 University of Zurich - Institut für Computerlinguistik
4-Oct – 13-Dec 2021
The CL Lecture series offers a platform for contemporary debates on topics at the cross-road between speech, language, and text technologies.
The 2021 edition will host a mix of speakers from computer science, artificial intelligence, signal processing, neuroscience and related fields. The latest advances in sign language recognition, automatic translation, speaker, speech, and language processing as well as neural tracking of speech in hearing-impaired listeners will be presented.
All speakers are internationally well-known experts from Switzerland, Europe and the U.S.
TIME

: every other week on Monday, 10.15-12.00, starting from October 4, 2021 

 Program
LOCATION

: Online and/or AND 4-06, UZH Campus Oerlikon, Andreasstrasse 15, 8050 Zurich. All lectures will be accessible via ZOOM. 

Location
The CL Lecture series on Speech and Text Technology is also offered to PhD students of the Faculty of Arts and Social Sciences. More information about registration and ECTS is available on the website. 
If you want to receive the ZOOM link to the lecture series, please send an email to: Dr. ELISA PELLEGRINO (contact person)  - Questo indirizzo email è protetto dagli spambots. È necessario abilitare JavaScript per vederlo.